Online radiation protection training by Ionactive - the audio and visual experience
Published: Oct 31, 2020
Tags:
Online radiation training
Online RPS training course
The Ionactive online radiation protection training app is designed to deliver courses over a variety of platforms including PC / Mac desktops, various Pads / Tablets and smartphones. In this article we provide a few hints and tips to deliver the best audio and visual experience.
Internet access
The training is obviously delivered over the internet so a connection is required. Since some of the training is interactive it is important to maintain the connection. For example, at the end of many sections and all modules are interactive quizzes. These need to be answered correctly before proceeding - hints and tips are given throughout (so a real time connection is required to mark the quizzes). Don't worry, if your internet connection fails then just wait until it is reestablished - no data will be lost.
Rich multimedia content is delivered by video, animation and by audio commentary. These need an internet connection capable of delivering streaming content (just like YouTube). All our rich content is bandwidth adaptable - meaning Ionactive will deliver the best quality content possible. If you find yourself in an area where streaming content is not possible then just carry on with the course (there is plenty of text and graphic content needing much less bandwidth), and return to the videos another time.
Audio content
Where there is audio content we also provide a visual (text) representation of the material. The audio is streamed at the best quality your internet connection can deliver.
Audio may be provided by video or animation (but not always). Audio will also be provided by the 'commentary player'. Audio has been optimised for headphones and speakers, but is possibly a better experience via headphones.
Video content
Video content is served up in training videos and animations. The video is streamed at the best quality your internet connection can support.
Video will play direct from within the training app. If you prefer you can expand the video and play full screen.
Viewing training content
The Ionactive training service is designed to work on all platforms. Some platforms will deliver a better training experience than others - simply due to the viewing area available. The training will completely adapt to screen size and aspect ratio but there does come a point where the text and videos may be too small to view comfortably.
Smartphones
The training will work well with both apple and android based platforms. If you are going to use a phone then portrait mode will give you the best viewing experience (landscape provides too little vertical space for content). You can of course play the videos / animations full size and they will adapt to your screen size.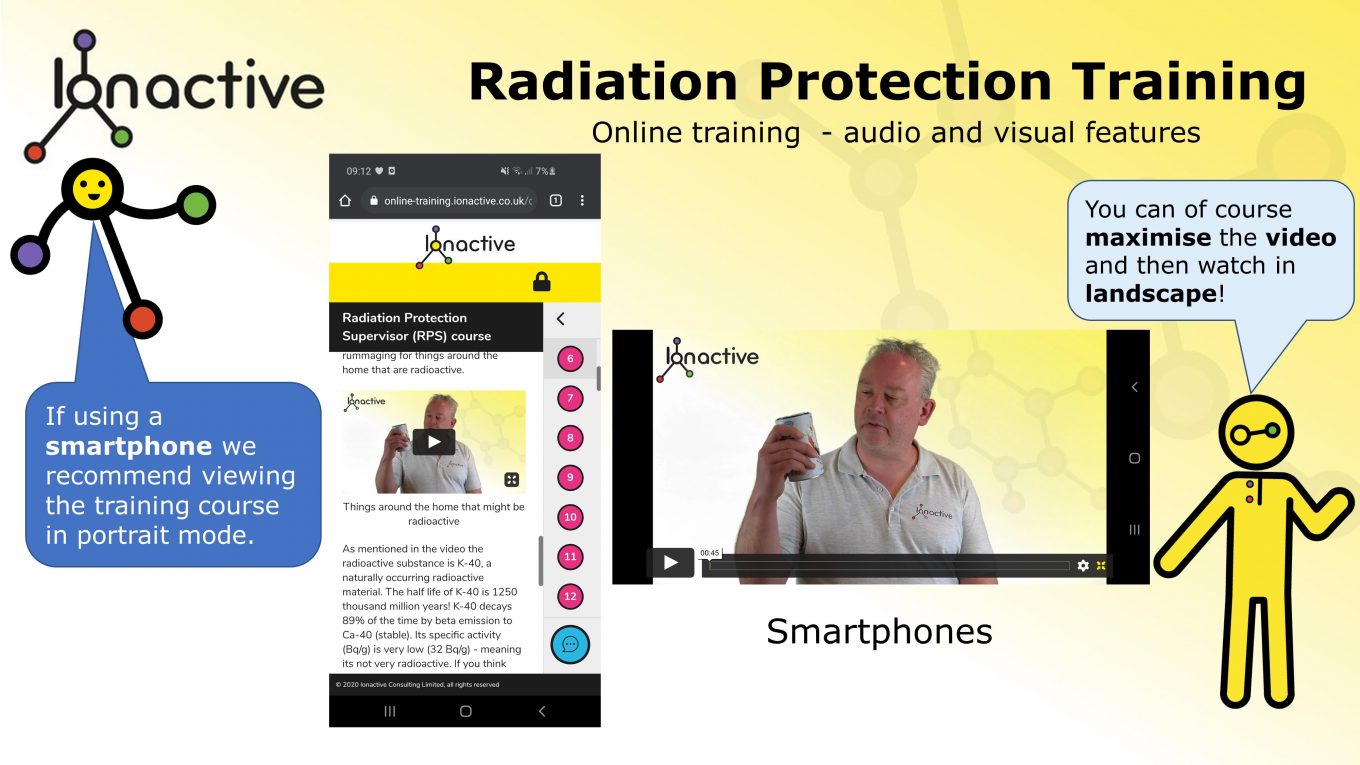 Pads / Tablets
The online training app works extremely well with Pads / Tablets from Apple / Android based systems. Windows tablets have also been tested and work just as well. The advantage is that you can look at more content in portrait mode and then rotate 90 degrees to get the best out of the video & animation content - without needing full size (unless you prefer to do this).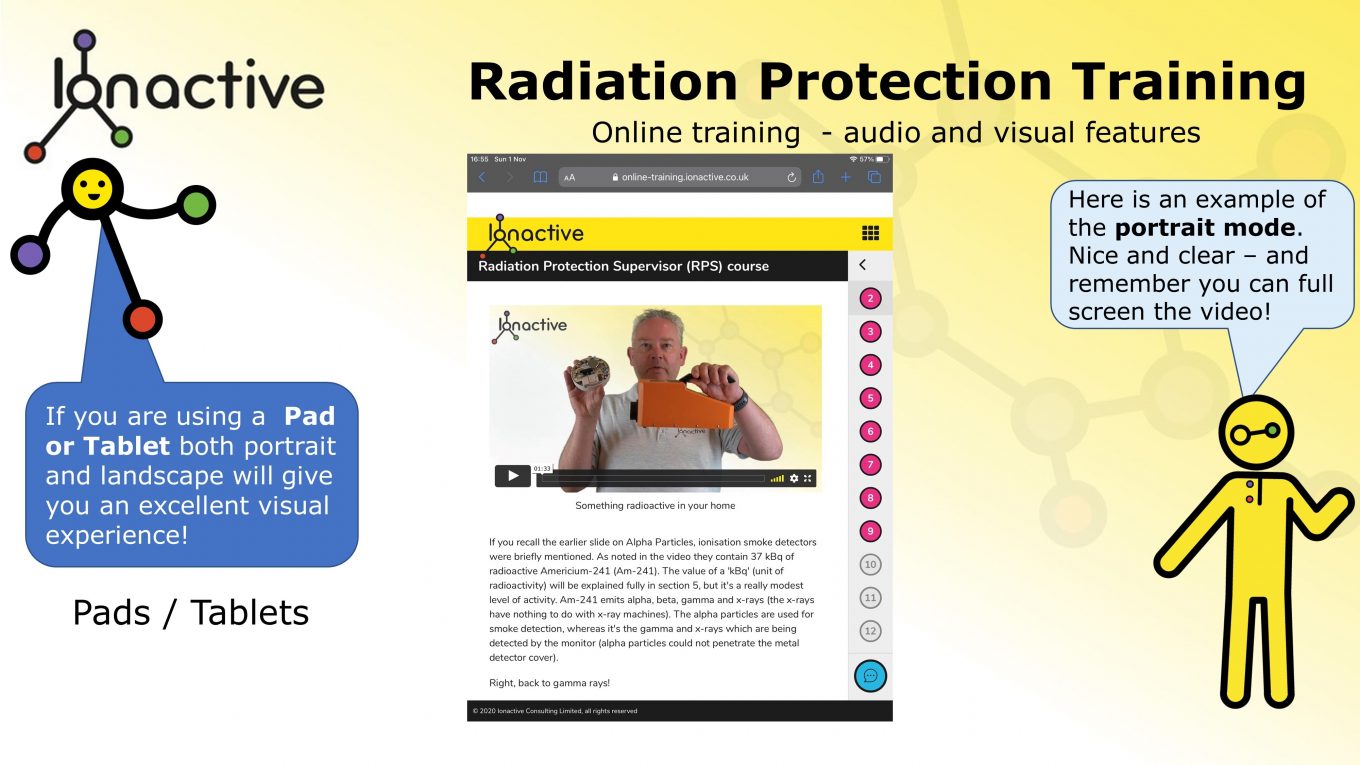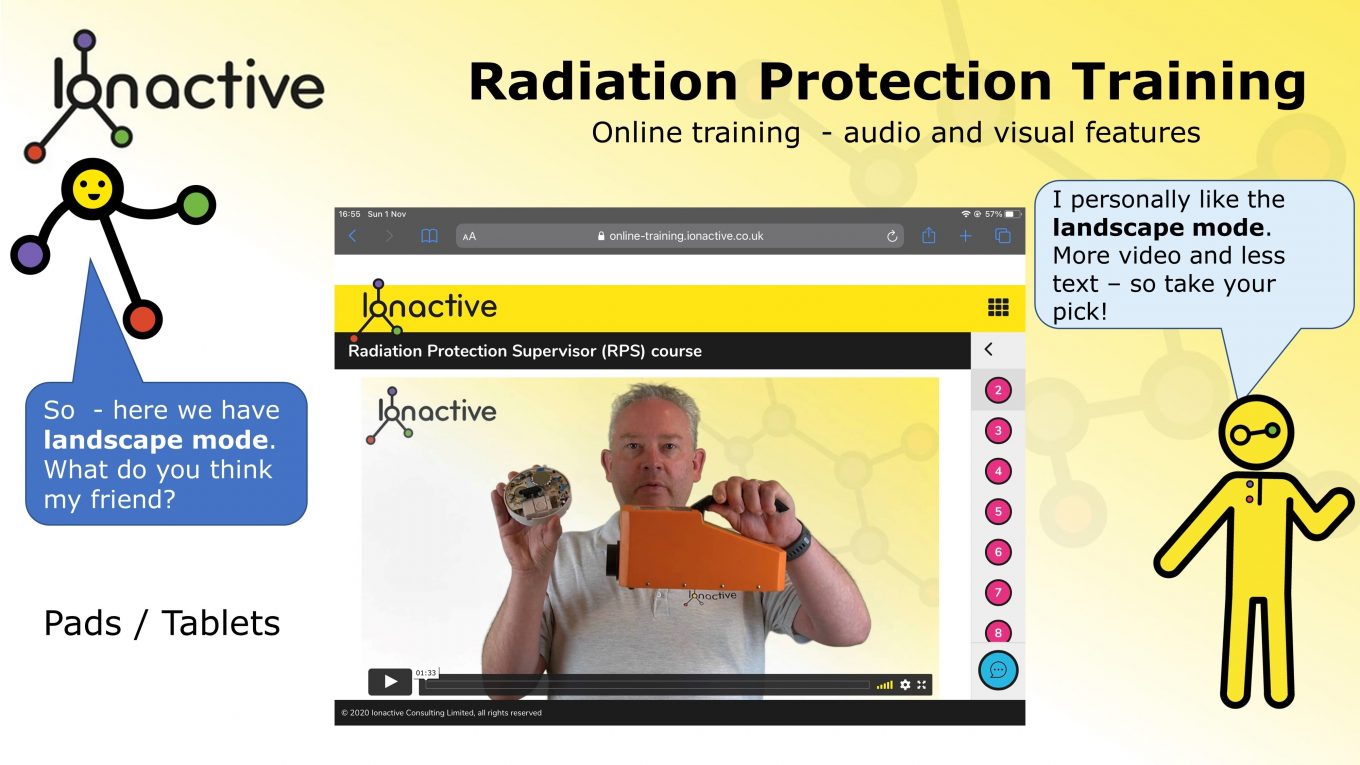 PC / Mac (desk and laptop)
The larger screens will certainly give you the best overall visual experience. The app has been tested with all popular browsers and the flexibility of choosing infinite window sizes and aspect ratios has advantages. It is possible to have the training app open on one side of your screen and perhaps other training resource in another window.
Tip. When you are ready to take your end of course test, if you have a large screen available you can open a duplicate of your training app. This means you can complete your test whilst having your training course material readily available to consult. Training courses of this type will always be 'open book'.
That brings us to the end of another short blog article on our online training service. Hope these are useful?
Next time we will look at learning technique and the auto marked quizzes!