Published: Jun 17, 2020
Tags:
Linac
Linear accelerator
Gamma Knife
Cabinet x-ray systems
Another week well underway and I am sat here in the garden office looking at squirrels getting soaked in the rain from the comfort of the garden office. Last week was quite hectic, time has rushed by and I cannot quite believe the last blog entry was May 29th. In the previous blog I wrote about getting 'back on the road', something that felt remarkable given the Covid-19 lockdown. Last week Ionactive managed 3 days of visits and some 950 miles of roads.
Due to hotels not being open for regular guests I needed to travel between Berkshire and Preston (and back) one day, and then Sheffield and back two days later. Normally such jobs would be combined so that visits could be consecutive with an overnight stay in-between. [It is true that some hotels are open to 'key workers' and it could be argued that the work on radiotherapy machines is 'key work', however the amenities on offer are on the light side - no food, refreshments or related services, so decided to drive , potentially saving rooms for others].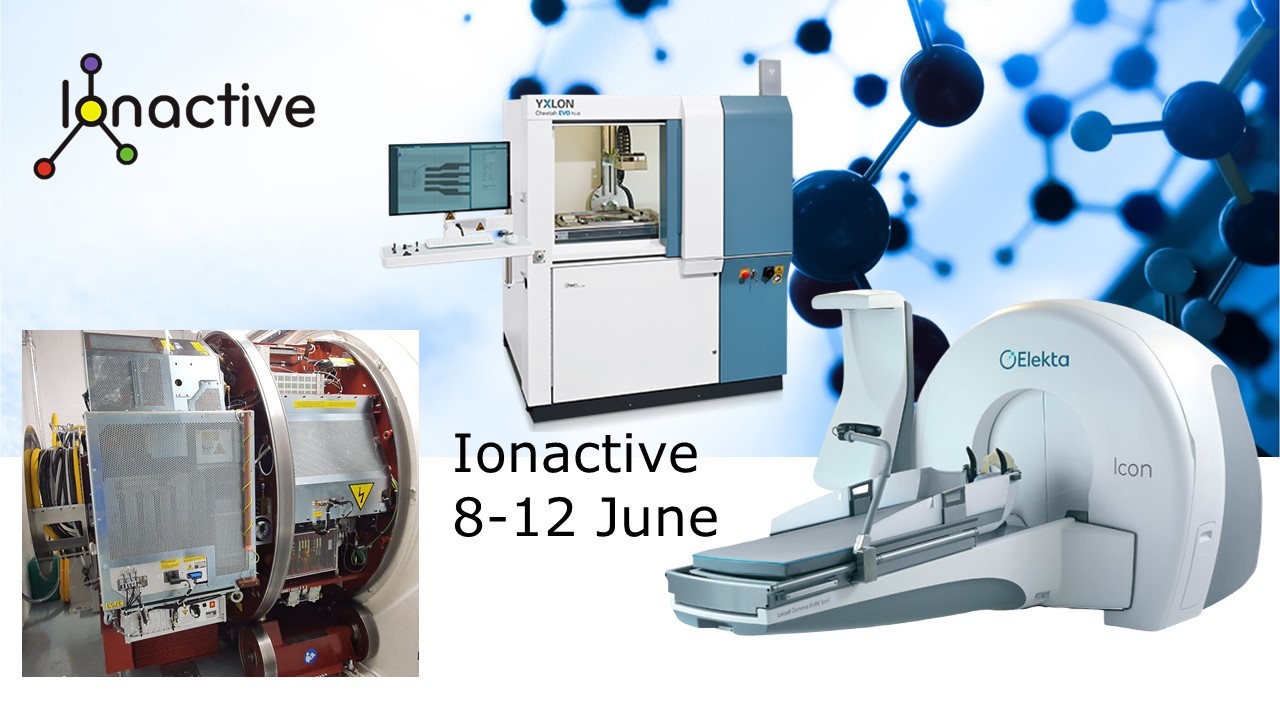 Linear Accelerators (linac)
First job was the critical examination (CE) of a linear accelerator (linac) used at a hospital in Preston. This was a replacement machine running 6MV, 10 MV, and 6MV FFF (flattening filter free). Nominal dose rates available at the iso-centre were 6 Gy/min at 6MV and 10 MV, with 14 Gy/min available at 6MV FFF. On this occasion Ionactive had not been involved with shielding verification (calculation) prior to the new linac being installed. In addition, the medical physics team had already completed a comprehensive dose rate survey around the perimeter of the shielded bunker and maze entrance. Nevertheless, Ionactive took a set of instantaneous dose rate (IDR) measurements to provide additional reassurance to the medical physics team. For all energies and gantry angles, IDR at the maze entrance was modest at < 2 micro Sv/h. Dose rates in a corridor next to the accessible primary was around 11 micro Sv/h at 6MV FFF and 10 MV. This lowered to < 3 micro Sv/h for 6MV. The other primary was in another treatment room with a full schedule of patients so was not visited.
IDR measurements are often misleading in that actual micro-Sv-in-any-one-hour will be a fraction of exposure that might be (wrongly) inferred by the IDR measurement. Simplifying, depending on workload the linac may only be producing primary beam radiation for perhaps 16 minutes in any one hour. That alone would bring a headline IDR of 11 micro Sv/h down to < 3 micro-Sv-in-any-one-hour. Furthermore, the linac gantry will not always be pointing in one specific direction (for this consideration we can assume 25% at the wall of interest). This then brings potential accumulated dose down to < 0.75 micro-Sv-in-any-one-hour. Finally, this assumes 100% occupancy on the "safe" side of the shielding, if this is a corridor, we might reasonably assume 0.1 occupancy. Of course, this would be more precise when averaged out over a week or month, but all things being equal the value of micro-Sv-in-any-one-hour is approaching background. Its also worth mentioning that many modern treatments on these machines are done as 'arcs' such that the beam is moving all the time. Therefore in theory the radiation monitor should 'move with the beam' – so keeping things static provides a further factor of safety.
After IDR survey it's down to checking the linac safety systems. Whilst this does include some consideration of patient safety, for the Ionising Radiations Regulations 2017 (IRR17) most of the CE is concerned with employees / public not undergoing radiotherapy. (Patient safety is a very important and quality assurance systems will be assessed by a Medical Physics Expert – MPE). Some of our checks included:
Correct function of the LPO (last person out) button (to start the interlock timer before leaving the treatment area)
Correct function of the LPC (last person confirm) button (to confirm the exit is complete and to completed setting of the safety interlocks)
Function of the maze entrance light curtain or interlocked gate (or interlocked shielding door if fitted instead of the maze)
Function of active and passive warning signs
Interlocks, interrupts and inhibits
The CE, under controlled working procedures, tries to 'trick' the safety system into a fault sequence (i.e. interlocks failing into unsafe modes). Thankfully, in almost every case such installations pass the CE since their engineered safety systems are carefully designed and installed.
This linac installation passed the CE (pending a couple of confirmations via email). Moreover, it was a pleasure to work with NHS staff from medical and radiotherapy physics.

Cabinet x-ray systems
The next visit last week was to look at a cabinet x-ray system used for quality control in the electronic component industry. Such systems can be used to radiograph electronic components and determine, for example, that solder contacts and similar meet the required standard. We had a good look around a Yxlon / Feinfocus (Y.Cheetah) unit, running up to 160 KV at 1mA. Systems of this type are intrinsically safe with an interlocked shielded door for sample placement and a leaded glass viewing panel. As expected the external IDR was substantially < 1 micro Sv/h (was actually no greater than background which was measured as 0.08 micro Sv/h on the day of the survey). Interlock door tests were conducted (by running the unit at the lowest KV / mA possible and then opening the door – radiation monitor at the ready). As expected, these systems contain two independent and diverse interlocks on all doors and the x-rays were shown to immediately cease. We also tested the emergency stop and function of the active lights. A simpler job than working with the linac, but just as rewarding and a pleasure to work with the safety manager who was charming.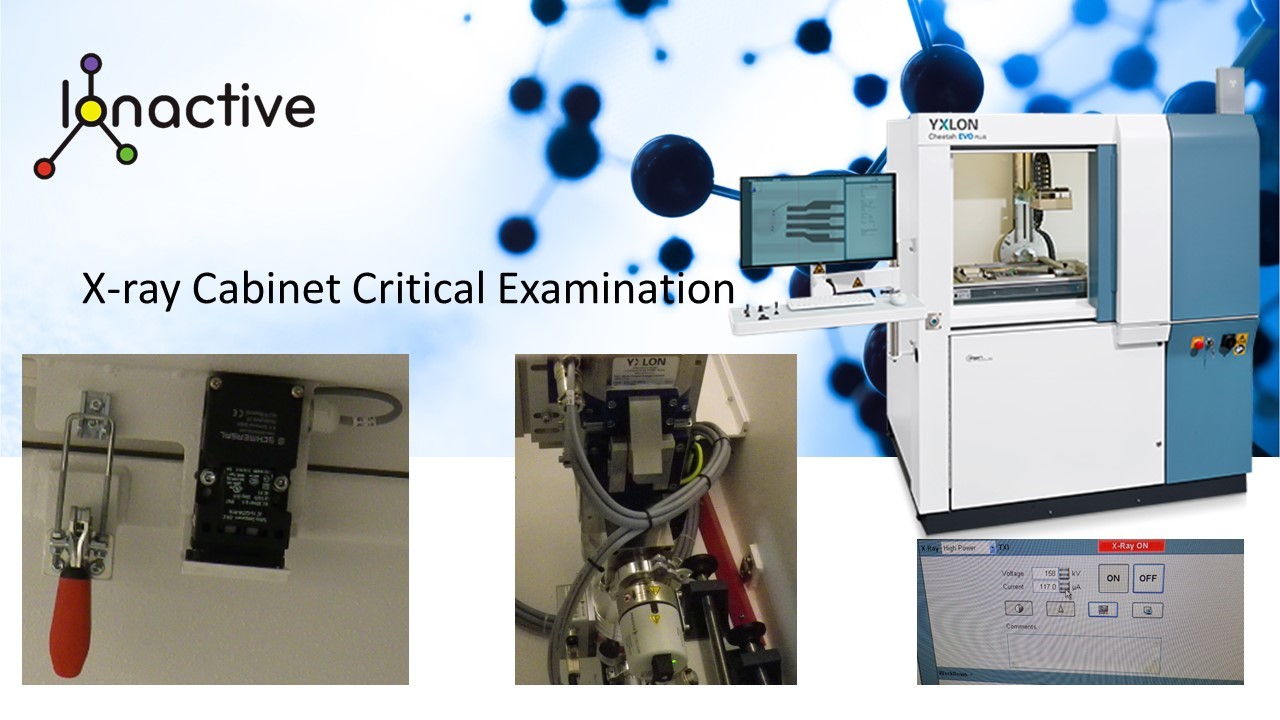 Gamma Knife
Final visit last week was to a Gamma Knife (GK) facility in Sheffield. Ionactive has worked with the GK for some years now, including shielding design, internal room dose rate assessment (to optimise future shielding designs), and critical examinations. Its very different from the linac visited earlier in the week. For starters its main source of ionising radiation is supplied by 192 1TBq Co-60 source pencils. The latest ICON variant also has an x-ray source – a Cone Beam CT (CBCT) positioning system (70-120 kVp), but this is not used for treatment and provides negligible exposure compared to the Co-60 sources.
At its most fundamental, the GK could be described as a device which can treat a range of brain conditions as an alternative to brain surgery via the physical knife. It provides a stereotactic radiosurgery (SRS) system that can treat brain conditions by providing very high dose rates from multiple radiation beams which converge on a precisely defined spot in the brain, thus minimising damage to surrounding brain tissue. Unlike the linac, the radiation cannot be turned off, rather it is shielded within a collimator system and behind a shielding door.
The older systems required a reference frame to be bolted to the head of the patient which is then attached securely to the patient couch – ensuring the head is locked into position giving accuracy of the delivered dose. The latest ICON system with CBCT system allows a 3d printed mask to be fitted to the patient which is quick and less evasive as no frame is used.
Co-60 sources produce highly penetrating radiation (photons of about 1.2 and 1.3 MeV with near 100 % probability). That said, this is significantly less penetrating then the linac (i.e. 6-10 MV photons). In addition, the Co-60 collimated breams are directed into an iso-centre within the GK treatment space, so the room will only experience scattered radiation and gamma 'leakage' from the GK shielding. Therefore, despite the considerable source activity term, the shielding of a GK room is modest compared to a linac. So modest in fact that its possible to have a treatment room where the 'door' to the facility is glass - as long as this is positioned at the back of the linac and slightly offset. To save space (and additional cost), this door is often heavy and shielded (i.e. not glass) where the door also doubles as a security feature. Like brachytherapy radioactive sources, the GK Co-60 sources are HASS (High Activity Sealed Sources) and are therefore subject to rigorous security.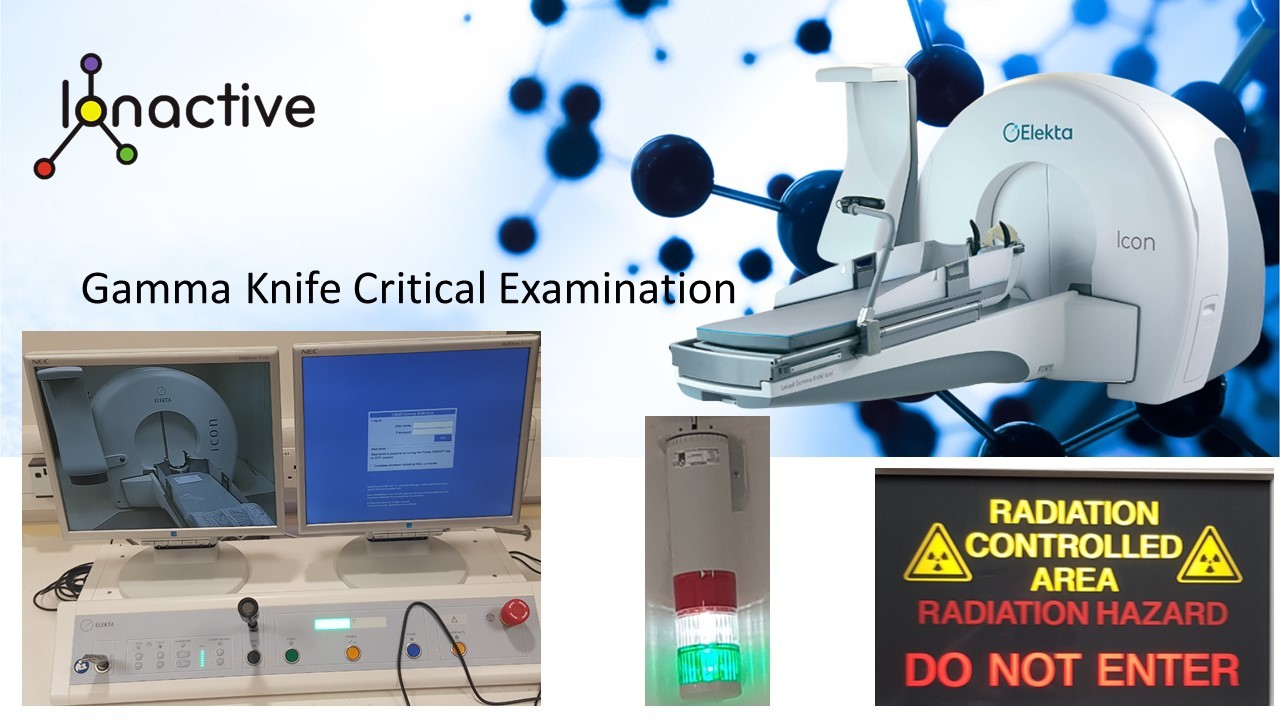 Online Radiation Safety Training
In addition to the site visits and office-based client work, we have been working hard to get our online radiation safety training courses ready for going live 3 August 2020. At first we felt this date was a little too far into the year, but now we have good detail on the deliverables it's a realistic date to meet the quality we require. Our fantastic website design team Satellite Creative are doing a great job building the training application and supporting web interface, we are busy converting our current training for online delivery.
We will always deliver live radiation safety courses where we can (depending on government advice for Covis-19). That said, the online training is not a temporary fix, it's a long-term alternative for delegates who prefer to learn in their own time at their own pace.