IRR17 (5) - Notification of certain work
IRR17 (6) – Registration of certain practices
IRR17 (7) – Consent to carry out specified practices
IRR17 (8) – Radiation risk assessments
IRR17 (9) - Restriction of exposure
IRR17 (10) - Personal protective equipment
IRR17 (11) - Maintenance and examination of engineering controls, etc. and personal protective equipment
IRR17 (12) - Dose limitation
IRR17 (13) - Contingency plans
IRR17 (5) - Notification of certain work
Regulations 5-7 under the new IRR17 introduces a risk-based approach for informing the HSE (the UK regulator for IRR17) about the work you undertake using ionising radiation. Regulation 5 is for notification of certain work that falls at the lower end of the risk spectrum.
Regardless of what type of work you do involving ionising radiation, you will be required to make an application to HSE via their website portal at the following address:
https://services.hse.gov.uk/bs...
Notification applies to work except work
arising from a practice that needs to be registered under Regulation 6, or a specified practice that needs a consent under Regulation 7.
work specified under Schedule 1
work on a nuclear licensed site
work involving items contaminated with radioactive materials, where that material has been deemed by a UK environment agency to be outside of regulatory control (e.g. following a permitted disposal/release to the environment)
For almost all cases involving X-ray generators, you will need to at least register. If your x-ray generator falls into work specified under Schedule 1, then you will not need to register or notify. However – care is required! You need to carefully read the clauses in Schedule 1. It might well appear that your x-ray equipment complies – however, Schedule 1 will only apply to x-ray equipment if it is 'a type approved by the Executive'. During the time of IRR99 (January 2000 to December 2017) no x-ray equipment was approved by the executive (HSE). The HSE has no plans to type approve equipment in the future.
The Exemption flowcharts in Schedule 1 of IRR17 are useful but care needs to be taken in their interpretation – if in doubt seek advice from an Ionactive Radiation Protection Adviser.
The bottom line is that very few 'users' are likely to notify as the thresholds are so low. Most will either register (Regulation 6) or require consent (Regulation 7)
---

Worked Example
The site you are working on uses up to 50 MBq of P-32 at any one time for research processes. The volume/mass of the material is low (<< 1000 kg). The work is using radioactive material for its radioactive properties (tracer analysis). You need to look up Flow Chart 1 and the data for P-32 from Schedule 7 of IRR17 (extracts of these follow below after the text). Following chart 1, and looking up P-32 from Schedule 7 we have the following:
Column 2 is 1000 Bq/g. Our 50 MBq will exceed this (specific activity 'Bq per ml/g' will be much higher). So, the work is NOT exempt.
Column 3 is 10,000 Bq. Our 50 MBq exceeds this. So, the work is again not exempt.
Is the quantity of material < 1000 Kg? Yes it is.
Column 4 is 1000 Bq/g. Our 50 MBq will exceed this (specific activity 'Bq per ml/g' will be much higher). So, a registration IS required (a notification will not suffice)

The diagram and data below are taken from the Ionising Radiations Regulations 2017 (IRR17) - ACoP.
IRR17 (6) – Registration of certain practices
A registration is required where:
Work undertaken by the employer exceeds the thresholds specified for notification (see IRR17 Regulation 5), or
Work undertaken by the employer cannot be exempted under Schedule 1 of IRR17, or
Work undertaken by the employer is NOT a specified practice (see IRR17 Regulation 7)
This will cover the following types of typical work with ionising radiation (list not exhaustive)
Most uses of radioactive sealed sources for process control, calibration, density measurement and similar (excluding HASS sources)
Most uses of unsealed radioactive sources in laboratory research, quality assurance (excluding medical products containing radioactive material)
Most uses of typical x-ray equipment operating >30kV (will include security x-ray, diagnostic x-ray in medicine, x-ray enclosure screening)
What will NOT be covered under a registration is a specified practice. A specified practice comes under IRR17 Regulation 7 and would include, for example, high activity sealed source (HASS), and industrial radiography (unless conducted in an enclosure where there is no person access). Also, any work on a nuclear licensed site would not be covered.

Ionactive clients receiving Radiation Protection Adviser (RPA) advice are split 60:40 registration-consent.
IRR17 (7) – Consent to carry out specified practices
The following specified practices are considered to be higher risk than those allowable under notification (lowest risk - IRR17 Regulation 5) or registration (medium risk - IRR17 Regulation 6). If the employer undertakes one or more of the following, you need to gain consent from the HSE before you can start work. A consent is required for each specified practice that you undertake. Failure to meet the conditions of the consent means you cannot start the work (or continue the work if already underway).
(a) the deliberate administration of radioactive substances to persons and, in so far as the radiation protection of persons is concerned, animals for the purpose of medical or veterinary diagnosis, treatment or research

(b) the exploitation and closure of uranium mines

(c) the deliberate addition of radioactive substances in the production or manufacture of consumer products or other products, including medicinal products

(d) the operation of an accelerator (except when operated as part of a practice within sub-paragraph (e) or (f) below and except an electron microscope);

(e) industrial radiography

(f) industrial irradiation

(g) any practice involving a high-activity sealed source (other than one within sub-paragraph (e) or (f) above);

(h) the operation, decommissioning or closure of any facility for the long-term storage or disposal of radioactive waste (including facilities managing radioactive waste for this purpose) but not any such facility situated on a site licensed under section 1 of the Nuclear Installations Act 1965

(i) practices discharging significant amounts of radioactive material with airborne or liquid effluent into the environment.

Upon successfully applying to HSE and receiving a consent, you will be served with a consent certificate which will contain a summary of the data submitted during the application process. The following extract from an actual consent highlights the confirmations that have been made. In addition to the rest of IRR17, it is most likely that during an HSE inspection the confirmations will be checked off against your IRR17 procedures and systems.
IRR17 (8) – Radiation risk assessments
Regulation 8 (risk assessment) is the "hub" for everything else you need to do to work safely with ionising radiation. Ionactive spent much time with new clients in Q3 and Q4 of 2018 dealing with HSE improvement notices, and in all cases a huge weakness was insufficient risk assessments. Ionactive strongly believes that the simple 'matrix' approach to workplaces risk assessments are generally inadequate for all but the most simple uses of ionising radiation.
The IRR17 ACoP for Regulation 8 states in paragraph 72 "When conducting a radiation risk assessment, employers must consult a radiation protection adviser (RPA) about the matters to be considered". Ensuring this consultation is in place early will enable the employer to comply with the rest of IRR17 in a timely fashion.
Before an employer commences any new activity, they must make a suitable and sufficient assessment of the risk to any employee, or other person, to allow appropriate controls to be established. The assessment must demonstrate:
all hazards with the potential to cause a radiation accident are identified
the nature and magnitude of risks to the above persons are identified
where risks from a radiation accident are identified, steps are taken to prevent the accident, to limit its consequences, and provide employees with the information, instruction, and training to restrict their exposure
Paragraphs 70 and 71 of the IRR17 ACoP provide a very useful set of risk assessment considerations. These now form part of every Ionactive radiation risk assessment. There is no such thing as "non-applicable" - a statement that explains why you 'do not need to do something' is as important as a statement that describes when you 'do need to do something'. If you believe you do not need external dosimetry, or you do not need classified workers, then your risk assessment should explain why.
Whilst IRR17 allows for risk assessment to be proportional to the radiation hazard, our advice is that if you consider each and every risk element shown below (writing a short statement for the reasons why you do or do not need to consider a risk element ), then you cannot go far wrong.
---

Using IRR17 ACoP - Regulation 8
ACoP Paragraph 70

Ensure you have an answer/statement for each of the following:
(a) the nature of the sources of ionising radiation to be used, or likely to be present, including accumulation of radon in the working environment

(b) estimated radiation dose rates to which anyone can be exposed

(c) the likelihood of contamination arising and being spread

(d) the results of any previous personal dosimetry or area monitoring relevant to the proposed work

(e) advice from the manufacturer or supplier of equipment about its safe use and maintenance

(f) engineering control measures and design features already in place, or planned

(g) any planned systems of work

(h) estimated levels of airborne and surface contamination likely to be encountered

(i) the effectiveness and the suitability of PPE to be provided

(j) the extent of unrestricted access to working areas where dose rates or contamination levels are likely to be significant

(k) reasonably foreseeable accident situations, their likelihood and potential severity

(l) the consequences of reasonably foreseeable failures of control measures – such as electrical interlocks, ventilation systems and warning devices – or systems of work

(m) steps to prevent possible accidents, or limit their consequences


ACoP Paragraph 71

Once you have completed an entry for each of the risk assessment elements above, you will be able to provide information for the questions presented below:
(a) the action needed to make sure the radiation exposure of all people is kept as low as reasonably practicable (regulation 9(1))

(b) the steps necessary to achieve this control of exposure by the use of engineering controls, design features, safety devices and warning devices (regulation 9(2)(a)) and, in addition, to develop systems of work (regulation 9(2)(b))

(c) whether it is appropriate to provide PPE, and if so, what type is adequate and suitable (regulation 9(2)(c))

(d) whether it is appropriate to establish any dose constraints for planning or design purposes and if so, what values will be used (regulation 9(4))

(e) the need to alter the working conditions of any employee who declares they are pregnant or breastfeeding (regulation 9(6))

(f) an appropriate investigation level to check that exposures are being restricted as far as reasonably practicable (regulation 9(8))

(g) the maintenance and testing schedules required for the control measures selected (regulation 11)

(h) what contingency plans are necessary to address reasonably foreseeable accidents (regulation 13)

(i) the training needs of classified and non-classified employees (regulation 15)

(j) the need to designate specific areas as controlled or supervised areas and to specify local rules (regulations 17 and 18)

(k) the actions needed to make sure access is restricted and other specific measures are put in place in controlled or supervised areas (regulation 19)

(l) the need to designate certain employees as classified persons (regulation 21)

(m) the content of a suitable programme of dose assessment for employees designated as classified persons, and for others who enter controlled areas (regulations 19 and 22)

(n) the requirements for the leak testing of radioactive sources (regulation 28)

(o) the responsibilities of managers and workers (including outside workers) for ensuring compliance with these regulations

(p) an appropriate programme of monitoring or auditing of arrangements to check the requirements of these regulations are being met.
You should consult with a Radiation Protection Adviser (RPA) in order to ensure your risk assessment is suitable and sufficient. The extract that follows provides an example of a risk assessment for an x-ray machine used in the cargo and freight sector. Note the level of detail.
---

Risk assessment examples

Risk assessment example 1
Risk assessment example 2

IRR17 (9) - Restriction of exposure
Notwithstanding the importance of risk assessment (IRR17 - Regulation 8), this regulation is just as significant. It presents a large part of the current philosophy of radiation protection - as prescribed by ICRP. Under the ICRP principles, you should investigate alternative methods of getting the job done that use non-ionising radiation techniques (although by the time you arrive at this site it is assumed that ionising radiation use is justified).
Every radiation employer must take all necessary steps to restrict, so far as is reasonably practicable (ALARP), the extent to which their employees and others are exposed.
Two important issues in this regulation are as follows
Dose sharing should not be the primary means of keeping exposures below dose limits.
For employees not normally exposed to ionising radiation during the work, the employer must take specific steps to ensure its unlikely that any such person would receive an effective dose exceeding 1mSv (or any other limit for "other persons" as specified in Schedule 3 of IRR17).
Where appropriate ALARP measures should be engineered into the work with ionising radiation, this takes away the 'thinking element' (i.e. consideration of time, distance, shielding, practical handling techniques and similar). This is possible for certain work using external radiation sources (e.g. fully shielded and interlocked radiation enclosures used for industrial radiography or cancer treatment radiotherapy treatment rooms). Where internal radiation hazards exist, for example unsealed radioactive materials used in medical diagnostic imaging, more emphasis is placed on 'doing the right thing' (so ALARP needs much more real time on the job consideration).
Generally, Ionactive clients are encouraged to try and maintain a dose constraint of no more than 1mSv effective whole body dose for any employee. This then guarantees the second statement above for all, regardless if they are actually 'working' with ionising radiation.
IRR17 Regulations 9 sets out a hierarchy of control measures – these being similar to that used in all modern UK health and safety legislation.
These need to be applied during the design, construction, installation, and use of sources of ionising radiation:
Engineering controls
Warning devices
Systems of work, training, local rules and instructions
Personal protective equipment
In the case of a female employee who has advised her employer that she is pregnant, occupational exposure must be reduced so that the dose to the foetus is unlikely to exceed 1mSv during the remainder of the pregnancy. This is covered automatically if the employer implements a local dose constraint of 1mSv for all employees (male or female). The ease in which an employer can implement this dose constraint for all routine work and reasonably foreseeable accidents will depend on the nature of the work. This is far easier to achieve for external radiation sources, and may be impossible to guarantee for certain work with unsealed radioactive materials (in which case withdrawal from radiation work may be the only reasonably practicable option).
In relation to a female employee who has advised her employer that she is breastfeeding, the employer must take steps to ensure the avoidance of significant bodily contamination. This is of course only relevant to those who work with unsealed forms of radioactive material.
For the purpose of determining whether doses are as low as reasonably achievable (ALARP), an employer must carry out an investigation of the doses received by any employee having accrued a dose of 15mSv, or more, in any calendar year. In practice, a much lower limit than this will be specified in the local rules. Given that Ionactive encourages most clients to maintain less than 1mSv whole body dose per year, then investigation levels in many cases are set at levels where dosimetry records 'something' above background. Such investigations are of course proportional to the low level of risk from such low exposures.
There is a lot of detail in IRR17 Regulation 9, much of which will only be relevant to certain types of ionising radiation use. You are therefore encouraged to download a copy of the IRR17 ACoP from HSE and have a good read through this particular regulation.
IRR17 (10) - Personal protective equipment
Any personal protective equipment (PPE) must be compliant with the Personal Protective Equipment Regulations 2002, or in the case of respiratory protective equipment (RPE), where that regulation is not applicable, be of a type or standard approved by HSE (see HSE website guidance for RPE). In general CE marked equipment should be used. The Radiation Protection Adviser (RPA) should be consulted and asked to provide advice on the selection or suitability of PPE.
The radiation employer is also responsible for ensuring that there is a suitable location to store the PPE when it is not being worn.
The output of the risk assessment (Regulation 8) will determine the scope and extent of personal protective equipment. However, this must be considered together with the restriction of exposure (Regulation 9), to determine how the use of PPE / RPE will meet the concept of hierarchy of control and the ALARP concept.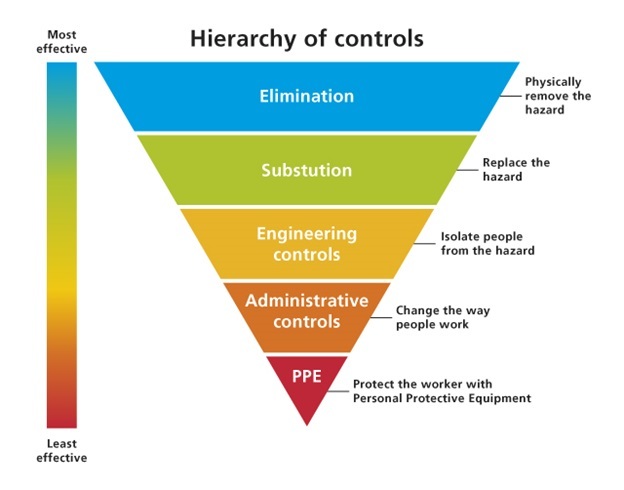 Despite the above diagram, for unsealed radioactive materials (internal radiation hazard work areas) there may well be mandatory PPE requirements to enter the area (e.g. labcoats, overshoes, safety glasses etc). However, the concept is still valid since the radioactive material should be protected at source (i.e. worked within ventilated containment if reasonably practicable). In many cases, an ALARP assessment will show that PPE is required for external radiation hazard work areas (for example using a leaded apron during certain diagnostic radiology procedures).
IRR17 (11) - Maintenance and examination of engineering controls, etc. and personal protective equipment
Overview

Engineering controls such as local exhaust ventilation systems, safety features such as electromechanical interlocks and warning devices must be properly maintained and where appropriate, thorough examinations carried out at suitable intervals. 'Maintenance' is defined as 'maintained in an efficient state, in efficient working order and in good repair.' Inspection programmes will need to be formal. Monitoring programmes should be used to judge the effectiveness of contamination controls. It is usually appropriate to carry out maintenance and examination at least once a year unless a risk assessment dictates more regular testing.
Records of maintenance of plant and equipment with radiation safety significance must be retained. This is also extended to maintenance of PPE.
Generally, the risk assessment (IRR17 – Regulation 8) will help you decide what level of maintenance and examination is required. In addition the supplier / installer / manufacture of the radiation source should also provide specific information on maintenance requirements
Note that IRR17 - Regulation 14 (and Schedule 4) require that the employer consults with a Radiation Protection Adviser (RPA) to develop a programme of examination and testing for appropriate control measures.



IRR17 (12) - Dose limitation
Dose limits are 'legal limits' and to exceed them is to commit an offence. However, they should only be seen as representing an upper boundary and not values that can be reasonably expected to be reached. One can be in breach of IRR17 where these levels have not been exceeded, if it is shown that the employer did not adopt ALARP (as low as is reasonably practicable) and comply with IRR 17 (9) - Restriction of Exposure. Dose limits are specified in Schedule 3 of IRR17 – and are summarised in the table below.
When considering the values in the table above consider the following:

The average annual exposure from background levels of radiation in the UK (all sources) is around 3 mSv a year.
Most employees who work with ionising radiation, including those in the nuclear industry receive on average less than 1mSv whole body effective dose in a year. (Note: average annual occupational exposures for long haul cabin crew and airline pilots are about 3mSv/year).
The above values are therefore quite significant, so careful justification (after optimisation) would be required to approach them in most typical work situations.
Notwithstanding the above , there may be circumstances where an employer can demonstrate that the 20mSv limit in the above table is not practicable. If this is the case, the employer can apply the following limits:
100 mSv in any consecutive 5-year period, but only if
No more than 50mSv in any one calendar year during the 5-year period.
The above limits only apply to effective (whole body) dose. Given that occupational radiation exposure is significantly below current dose limits the employer will need to carefully justify the above additional limits. In making a case the employer will need to ensure:
(a) there is appropriate consultation with the RPA and with the affected employees
(b) there is provision of information to the affected employees and the ADS, seeking approval from HSE will also be required. Employers will also need to consult any appointed safety representative.
(c) they investigate of any suspected exposures exceeding 20 mSv in a calendar year has taken place, and this is notified to HSE;
(d) they comply with a duty to review whether the five-year limit is still appropriate at least once every five years;
(e) they place restrictions on reverting to an annual basis for the dose limit for that employee;
(f) they ensure records are made regarding the reasons for choosing a five-year dose limit.
We advise that you place employees at your establishment who DO NOT work with ionising radiation into the other persons category (they have the same level of protection as a member of the public). That said, as you read on you will see that Ionactive uses a 1mSv effective dose constraint for almost all clients working with ionising radiation (i.e. all employees regardless of their work).
Real world dose limitation
Firstly ignore the dose limits for trainees under 18 years of age, instead place them into the 'other persons' category. Read on and you will see why.

We have over 100 clients at any one time (users of ionising radiation), spanning every type of radiation use. We are Radiation Protection Adviser (RPA) to the largest user of high activity sealed sources (HASS) in the UK. That said, 98% of all our clients have employee annual exposures of less than 1mSv effective dose per year. So the dose constraint that Ionactive sets for most of our clients is no greater than 1mSv / year. This might be challenging for some users, but it ensures that the principle of ALARP is always considered.
In most cases the local rules will specify investigation levels, and perhaps operational levels lower than this, and it is these exposures that the Radiation Protection Supervisor (RPS) will be interested in on a routine basis.
IRR17 (13) - Contingency plans
One reason for completing a risk assessment (IRR17 - Regulation 8) is to determine if a radiation accident is reasonably foreseeable. IRR17 - Regulation 2 defines a radiation accident as 'where immediate action would be required to prevent or reduce the exposure to ionising radiation of employees or any other persons'.
Despite many definitions, 'reasonably foreseeable' is still open to interpretation by clients, Ionactive, and regulators - it is not defined in IRR17. A popular definition is that a reasonably foreseeable accident, which results in injury or damage (i.e. unplanned radiation exposure), should be predicted by a reasonable person with necessary skills and knowledge (i.e. an RPA). However, we point out to clients that the risk assessment and contingency plan development is a joint effort– lots of input is required from the employer to ensure nothing has been missed.
Where a radiation accident is deemed reasonably foreseeable the employer will need to prepare a contingency plan. The plan must be designed to achieve restriction of exposure (so far as is reasonably practicable). 'Contingency plan' applies to all users of ionising radiation where a radiation accident is reasonably foreseeable - however the plan will be proportional to the exposure risk. An x-ray machine that fails to cease x-ray production during routine use may require no more than an emergency stop being pressed, or the power supply being removed. Whereas, a spill of radioactive material in a laboratory may need a comprehensive contingency plan which requires a spill kit, trained employees using PPE, and post incident monitoring etc. The extent of the plan will then influence the frequency and detail of any contingency training, and the rehearsal of the plan.
Specific advice
Contingency plans are only required for reasonably foreseeable events – just because an event is 'just about credible' (e.g. a lorry running into a building and crushing a source), there must be reasonable grounds for believing that the event will occur before contingency plans are required. Whilst the lorry example may not always be deemed credible (after suitable assessment), fire is one event which is usually considered reasonably foreseeable.
The ACoP to IRR17 - Regulations 13, denotes the following as reasonably foreseeable, and therefore requiring contingency plans.
Reasonably foreseeable events requiring a contingency plan
(a) failure of specific control equipment such as shielding, electrical interlocks and warning devices
(b) failure of control measures such as fume cupboards, faulty PPE or misuse leading to exposure
(c) contamination spread from the controlled or supervised area
(d) fire leading to possible dispersal of radioactive material, or melting of lead shielding leading to substantial increases in dose rates
(e) faulty equipment, e.g. X-ray sets
(f) user error for example correct procedures not being followed
(g) loss or theft of radioactive material
We have already suggested that fire is reasonably foreseeable. User error is also reasonably foreseeable, nearly all accidents and incidents have human error as the root course.

Content of contingency plan
Some, or all, of the following needs to be considered.

Likely content of a contingency plan
(a) who is responsible for putting the plan into effect (this must be specified in writing)
(b) what immediate actions for assessing the seriousness of the situation are necessary, for example the use of suitable radiation and contamination monitors (your risk assessment will help you determine this)
(c) what immediate mitigating actions are needed, for instance in clearing the accident area and establishing temporary means of preventing access (a full understanding of your ionising radiation source is essential here)
(d) what emergency equipment is required to deal with identified accidents and where this can be found
(e) other sources of information and guidance, such as equipment manufacturers and contact details (similar accidents already occurred elsewhere?)
(f) what PPE is needed and where it can be found (the training for use of PPE is essential, especially if not worn routinely)
(g) what personal dosimetry requirements there are for people involved in controlling the accident
(h) what training is required for employees (this will include rehearsal - see below)
(i) how to obtain radiation protection expertise so that proper judgements can be made about the seriousness of the situation and recovery measures (it is important to understand what you can do in-house, and where you require immediate RPA advice)
(j) under what circumstances do you contact the emergency services, and who is responsible for doing this (if contact is reasonably foreseeable then liaison and rehearsal is essential)
(k) what dosimetry follow-up is needed so that the people affected by the accident are identified and provision is made for their dose assessment.
The employer must ensure the following is provided:
Where local rules are present, they must make reference to the contingency plan – either including a copy of it, or a direct reference to other readily available documentation.
The employer must provide sufficient information, instruction and training to all those that might be affected by a radiation accident – and who will need to follow the contingency plans.
With respect to (i) above, there are very few circumstances where immediate RPA advice is appropriate, or would be realistically available. Be cautious if an RPA provider insists that 24/7 cover is essential. What is essential is that the employer should have the local knowledge and resources to provide an immediate response to any reasonably foreseeable accident.

Contingency plan rehearsal
There may be a requirement to 'exercise' the contingency plan by carrying out some practice exercises at suitable intervals. The extent to which this is required will depend on the following factors:

The potential severity of the accident (as determined by risk assessment)
The estimated accident doses that may be received (as they approach dose limits it is likely that rehearsal of the mitigation measures will become more and more important)
The number of personnel likely to be involved and the complexity of the plan
Involvement of the emergency services
IRR17 – Regulation 13 (2) states that 'where appropriate, rehearsals of the plan are carried out at suitable intervals'. This may be anything from a table top exercise, to a demonstration of capability using directing-staff and casualty actors. This rehearsal should be documented – and training records made.
Contingency plan use
IRR17 – Regulation 13 requires that if the contingency plan arrangements are required to be implemented (in full or in part) then:
the causes of those circumstances are analysed to determine, so far as is reasonably practicable, the measures required to prevent a recurrence

a record the analysis is made and kept for at least 2 years from the date on which it was made; and,
any exposure which occurs due to the above circumstances is noted on any relevant dose record.
Most larger employers, with the most significant ionising radiation sources, are already likely to have an accident investigation procedure already in place.