Radioisotope Beta Skin Contamination Dose Rates
Published: Sep 29, 2021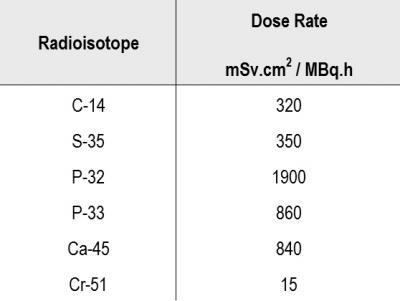 The table above provides values of mSv/h (equivalent dose) for various radioisotope skin (surface) contamination. The values are 'per MBq' over an area of 1cm2. For other values of activity, multiply the dose rate by the new activity (in MBq). For other values of surface area, divide the dose rate by the actual surface area (in cm2).

The values are derived from IAEA-TECDOC-162; they should only be used for educational purposes. In a comparison test with the 'Varskin Code' they over estimate the dose (dose rate) by about 10%.

Any contribution from x-rays (Bremsstrahlung) is ignored.

The values show the importance of avoiding skin contamination - even from low energy beta emitters. In addition, as far as P-32 is concerned you can more or less ignore the attenuation offered by a pair of laboratory grade gloves - therefore monitor gloves!

Cr-51 is included for comparison (emissions via electron capture).

Please also note that these figures are calculated by considering the absorbed dose in skin. Do not use dose rate data for beta absorbed dose in air and try to infer skin dose by the inverse square law.